DataCentres Ireland 2018 Explains Why Ireland is the
'Land of Opportunity' for DataCentres and Data Hosting
DataCentres Ireland, is being held at the Royal Dublin Society (RDS) on 20 – 21 November 2018. This free two-day event which brings together an international exhibition showcasing the latest  technology, products, services and solutions, together with a world class multi-streamed Conference to deliver the largest gathering of datacentres People and most complete event for the Irish market.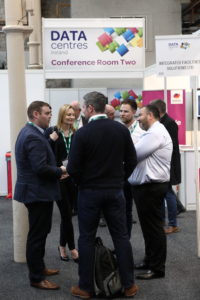 "DataCentres Ireland is more relevant than ever with multiple new building projects announced around the country …" Say Hugh Robinson Event Director, "…cumulative investment in Irish datacentres is projected to reach €5.7 billion by the end of this year and continue to grow considerable over the next 5 years.
Managing Director of Ardmac Roy Millar said "Ireland's cool climate, low corporation tax and use of key fibre connections make it attractive as a location. It also harbours an excellent construction sector and well educated workforce, providing the capability for clients to locate and operate successfully. Overall, the data centre sector sees continued growth and provides new opportunities."
The DataCentres Ireland Conference features over 58 Speakers, Chairs and Panellists across the two days. The 'Strategy Stream' will address the issues driving the market locally and internationally as well the opportunities available in the island of Ireland.
The 'Operational Stream' will showcase the latest ideas, best practice, Technology and approaches that can ensure legality, improve efficiency, reduce energy consumption, whilst increasing resilience, safety and security.
 There will be Keynote addresses on both days of the event,
On 20th November, facebook's Niall McEntegart, DataCentre Site Operations Director EMEA,  will look to the Future Demands on datacentres and how this may impact the design and operation of future datacentres.
 On 21st Minister Pat Breen TD, Minister for Trade, Employment, Business, EU Digital Single Market and Data Protection, Department of Business, Enterprise and Innovation will expand upon the Irish Government's recently launched Strategy Document on "DataCentre Development within Ireland" as well as give his thoughts on GDPR and Brexit as Minister for the 'EU Digital Single Market and Data Protection.'
Other highlights include sessions on Day 1 (20th Nov.) linked to Energy & Sustainable Energy Distribution throughout the country, with presentations from Rosemary Steen, External Affairs Director of Eirgrid Group, Anthony Rourke, Director of Government and Infrastructure Advisory at EY and David Connolly from the Irish Wind Energy Association (IWEA) whose stated view is that "There is more than enough wind energy to power the growing demand of electricity due to more data centres, but we need to get the data centres and wind energy connected to the grid faster."
On Day 2 (21st Nov.), as well as the Keynote from Minister Breen, there will be a number of sessions linked to the Planning process for DataCentres as well as regional opportunities available within the island of Ireland.
"I am pleased to announce that Conall Boland, Deputy Chairperson of An Bord Pleanála  (Irish Planning Authority has agreed to present at DataCentres Ireland" says Robinson "This is the first time An Bord Pleanála has addressed any datacentre related event in the country"
This will be followed by a number of short presentations and facilitated discussion from a
a number of County Councils (Meath, Mayo, Cork,  Limerick as well as from Invest NI ) on their regional opportunities for investment and what their region has to offer.
To view the whole DataCentres Ireland programme and to register for free, visit http://www.datacentres-ireland.com
Featuring over 85 Companies this is a must for all involved in and responsible for their organisations IT and mission critical infrastructure, whether that be a datacentre, Server or Comms room, whatever it size.
Visitors to the DataCentres Ireland Exhibition will see the latest in Stand by Generation, Racking, UPS's technology, Cabling, Racking, Temperature Monitoring and Control, Security Systems Physical or Cyber, Fire Protection, Building Modelling and much more.