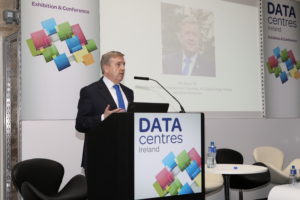 EU Digital Single Market and Data Protection, at the Dept of Business, Enterprise and Innovation will deliver a keynote address at the DataCentres Ireland Conference & Exhibition, held at the RDS, Dublin.
The Minister will explain the Governments strategy for encouraging the growth of Datacentres in the country both in Dublin and regionally, which was set out in the Data Centre Strategy document launched earlier this year.
Held at the RDS on 20 – 21 November, DataCentres Ireland combines a multi-streamed conference together with a major international exhibition to give attendees the most complete event for all those responsible for their organisations Digital infrastructure, whether that be in house, out sourced or in the cloud.
The Strategy Stream will address the market drivers affecting the sector and opportunities this offers Ireland and those seeking to invest in the country.
The Operational Stream deliver the latest in new ideas, approaches, technology and best practice that can assist all those involved with delivering and managing their organisation IT or mission critical infrastructure to be more efficient and effective whilst remaining secure and resilient, whatever the size of your organisation.
Ireland as a country punches above its weight in the datacentre sector and this is only set to grow with the country benefiting from more and faster international fibre connections, as well as accessibility to sustainable power.
"There is more than enough wind energy to power the growing demand of electricity due to more data centres, but we need to get the data centres and wind energy connected to the grid faster." David Connolly, CEO, Irish Wind Energy Association
Commenting on why Ireland punches above its weight, James Stuart, Director, Nlyte Software said "Ireland is a bridge between the United States and Europe, and the fastest-growing economy in the Eurozone." "Ireland's tech-savvy workforce, corporate tax incentives, and affordable and sustainable energy supply are the top driving factors for this growth.  Not to mention that Ireland is totally unaffected by the restrictions on the "transnational transfer of data on EU citizens given transfers can occur among any of the 28 EU member states."
Speakers at DataCentres Ireland 2018 will include Conall Boland, Deputy Chairperson of An Bord Pleanála, Rosemary Steen, External Affairs Director of Eirgrid Group, Anthony Rourke, Director of Government and Infrastructure Advisory at EY, Tanya Duncan, Managing Director of Interxion, as well as Garry Connolly, Founder of Host In Ireland.
The DataCentres Ireland Exhibition is an opportunity for all involved in delivering their organisations Data/IT or Mission Critical Infrastructure to see the latest in technology, products and services and solutions that can assist them and their organisation to run more effective and efficiently, reduce cost whilst increasing resilience.
"DataCentres Ireland is not just for those involved in the development and operations of  large datacentres" says Hugh Robinson, Exhibition Director "it is relevant to all those involved with maintaining Server or Comms rooms, telecoms networks and other mission critical environments who are dependent on resilience in power,  connectivity, temperature control, etc.… whatever the industry sector"
About DataCentres Ireland: DataCentres Ireland was founded in 2012 by Stepex Ltd, a communications, publishing and Exhibitions Company based in the UK. Supported by the Data Centre Alliance, IDA Ireland, Host In Ireland, Bicsi and the Irish Wind Energy Association, DataCentres Ireland is the largest and longest-running event of its kind. To view the programme and to register for free, visit http://www.datacentres-ireland.com or call +44 1 892 518877.