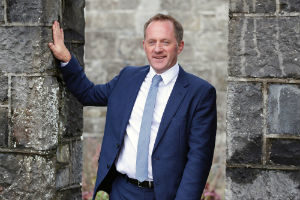 Naas, 1st July 2018 – Novi, the cybersecurity and proactive IT provider, today announces the launch of a new service to help Irish businesses identify hidden threats on their networks. The company has invested €160,000 to develop and launch CyberView, a new cloud-based cybersecurity analysis and reporting platform.
Cyber-attacks have become increasingly sophisticated, and several strains of malware have evolved to hide within IT networks that they successfully infiltrate. Traditional antivirus solutions are frequently unable to detect this malware, allowing it to lie dormant and activate when it can cause maximum impact.
Novi CyberView is a cloud-based service that is designed to identify these hidden threats and make users aware of them. It collects logs and internet usage patterns from businesses' firewalls which are then analysed and converted into easy to understand reports. CyberView processes tens of thousands of events on a daily basis and can scale to meet customer demands. It enables organisations to set a benchmark and more easily identify anomalies on their networks that may otherwise go unnoticed. This provides IT teams with actionable intelligence, enabling them to quickly take action to resolve issues.
To save time, CyberView generates automated reports that provide a summary of what's happening on the network. These can help organisations to quickly identify malware and other suspicious activity on the network. These reports can be customised for the individual needs of an organisation, to include information such as an overview of abnormal internet usage that may point to suspicious activity. CyberView can also help companies to identify hidden issues that could be causing network performance issues. Reports on top websites accessed combined with bandwidth reports can help to identify bottlenecks that may be causing network slowdown.
George O'Dowd, managing director, Novi, said: "Cyber-attacks are evolving constantly, increasing in frequency while simultaneously growing in their potential to cause financial and reputational damage to businesses. Many of the newer strains of malware are also designed to evade the very best antivirus systems, and can therefore go undetected for years. To protect against these advanced threats, businesses need a comprehensive insight into the hidden goings on in the IT environment.
"This is where Novi CyberView comes in. As an automated service, CyberView is a huge step forward when compared to other cybersecurity monitoring and reporting services on the market. It monitors suspicious network activity and collects logs, gathering this valuable information in easy-to-understand reports which help organisations to pinpoint hidden threats that might otherwise go unnoticed. Together with Novi's suite of cybersecurity services, including our off-site data recovery service Novi AirGap, and Novi PatchGuard, our vulnerability and patch management service, CyberView will enable IT teams to more effective defence against emerging threats."